Please Note:
HappyFlatPacks.com is not authorised to represent, approved or endorsed by IKEA and is not associated with IKEA
to Cork Delivery
Shopping
I make the round trip to in Dublin once a week.
Delivery
Right to your door (and up the stairs!)
Assembly
If required, I will assemble the flat pack furniture for you.
Did you know?
The average round trip to Dublin takes 6 hours and the average shopper spends nearly 2 hours in (source: independent.ie).
That's a total of 8 hours before you've even begun assembly of the furniture!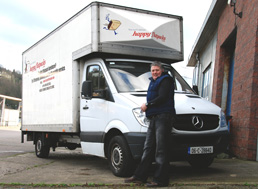 Everything was so easy right from the very beginning, they took the order without fuss and dealt with it immediately... and put everything together in no time and did the job in a very pleasant and professional manner.
Brian from Blackrock in Cork