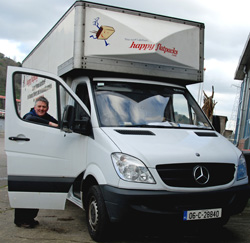 HappyFlatPacks.com are a Cork based company that deliver Ikea furniture to homes throughout Munster.
Busy schedule?
Lack of transport space?
These are just two of the reasons customers are increasingly using HappyFlatPacks.com – we take the hassle out of furnishing your home.
Find the products you want to purchase on the Ikea Dublin website and we'll go get them for you. If you'd like us to take care of assembly, we do that too.
What does it mean for you? No more:
Hours on the road
Traffic jams
Travel expense
Food expense
Accommodation expense
Queuing
Lifting
Assembling
HappyFlatPacks.com is run by Eric Murphy (pictured) and is an independant company with no ties to Ikea.